»Arguably, the In Gold We Trust report is the most comprehensive analysis of the global political economy through the lens of the Austrian School of economic thought. A unique perspective on gold, with some fantastic charts and always an enjoyable read.«
John Reade
CHIEF MARKET STRATEGIST OF WORLD GOLD COUNCIL
»Thorough, Comprehensive, Must have Analysis of the Gold Markets and factors driving its price!«
Rob McEwen
FOUNDER OF GOLDCORP, CEO OF MCEWEN MINING
»In Gold We Trust-Report is an utterly indispensable resource for anybody wishing to understand both the gold industry and the metal itself«
Grant Williams
»I love the In Gold We Trust-Report. It covers all different aspects of the gold world and serves as fantastic reference material. I always print it out and it sits on my desk for the year until the next one is released.«
Brent Johnson
MANAGEMENT & FOUNDER OF THE SANTIAGO GOLD FUND
»A must read for people who invest in precious metals, and precious metals equities. A pleasant read too, well researched, and well written.«
Rick Rule
PRESIDENT & CEO AT SPROTT U.S. HOLDINGS, INC.
»In a world full of banal sell-side Gold reports that miss the mark, In Gold We Trust-Report is the go-to reference point for all things fundamental, technical & macro-related in monetary metals. Suitable for the retail and Institutional investor alike, it is a treasure trove of insights.«
Ned Naylor-Leyland
INVESTMENT DIRECTOR QUILTER CHEVIOT INVESTMENT MANAGEMENT
»If we would be allowed to only read one piece of research a year, we would choose the yearly In Gold We Trust-Report. What an incredible valuable piece of work. Kuddo's to our brilliant friends from Lichtenstein.«
Willem Middelkoop
FOUNDER COMMODITY DISCOVERY FUND
»The annual In Gold We Trust-Report has become today's most widely read and perhaps influential piece of research on gold, along with the major economic and market trends affecting it.«
Brien Lundin
EDITOR OF GOLD NEWSLETTER AND CEO OF THE NEW ORLEANS INVESTMENT CONFERENCE
»Incrementum's annual In Gold We Trust-Report is the most early awaited report in the gold community. Don't miss it!«
James Rickards
AUTHOR OF CURRENCY WARS AND THE DEATH OF MONEY
»The annual In Gold We Trust-Report is the most widely forwarded research piece in the gold scene.«
John Hathaway
MANAGER, TOCQUEVILLE ASSET MANAGEMENT
»When it comes to finding the most insightful and comprehensive annual gold report, in Incrementum I trust!«
Simon Mikhailovich
FOUNDER OF THE TOCQUEVILLE BULLION RESERVE
»Each report provides a thorough analysis of the gold market, written by money managers who understand the principles of Mises, Rothbard and the other great thinkers of the Austrian school of economics.«
James Turk
FOUNDER OF GOLDMONEY.COM
»It is a well-documented fact that Ronald Stoeferle's In Gold We Trust-Report was a widely read essay. However, I believe that this report will be read in future even more frequently, and that future economic historians will mention In Gold We Trust-Report in their papers and books as an example of an economist who dared to challenge the destructive monetary policies of current central bankers.«
Dr. Marc Faber
AUTHOR OF THE GLOOM, BOOM & DOOM REPORT
»In Gold We Trust-Report is the gold research piece of the year; to be honest it's the only report that I read.«
Philip Barton
PRESIDENT, GOLD STANDARD INSTITUTE
»The In Gold We Trust-Report is one of the few must read research reports in the gold industry.«
Mark O'Byrne
CEO AND FOUNDER OF GOLDCORE.COM
»Whether you are a private investor, an asset manager, or a gold miner, In Gold We Trust-Report is the one gold report you have to read every year.«
Jordan Eliseo
SENIOR INVESTMENT MANAGER, PERTH MINT
»I think In Gold We Trust-Report is an enduring literary masterpiece, that perhaps should be entitled ›In Ronni and Mark we Trust‹ to bring us the best precious metal insights.«
Ben Davies
DIRECTOR & CEO, HINDE CAPITAL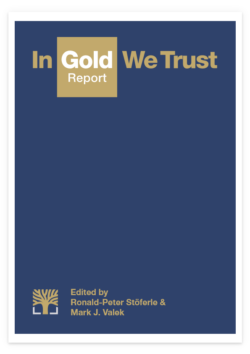 Subscribe to the In Gold We Trust report
To receive the annual 
In Gold We Trust
 report and Chartbook with related charts, subscribe to our 
In Gold We Trust
 Newsletter. Additionally feel free to subscribe to more interesting Newsletter like the Incrementum Research 
here
.
In Gold We Trust report
Youtube Channel
This channel brings you a lot of content about the In Gold We Trust report and other exciting topics which fit to the report.
In Gold We Trust report Twitter channel
Follow us on Twitter and find out what's on our minds. Stay up-to-date about upcoming events and more.
In Gold We Trust report LinkedIn profile
Follow us on our LinkedIn profile and stay connected with us, hear about job opportunities and more.