In Gold We Trust report 2010
2009 was an exciting and lucrative year for gold investors. Our first target price of USD 1,300 was almost reached, but to reiterate an earlier statement – our actual target is USD 2,300/ounce. The gold price broke the USD 1,000 mark on a sustainable basis and increased by 24% y/y in USD terms and by 20.5% y/y in EUR terms. But 2010 and beyond should turn out even more interesting for gold – and we would like to discuss the reasons in our fourth annual Gold Report.

Detailed study on gold and gold-relevant capital market developments.

Critical consideration of all relevant events.

Recognized in more than 60 nations.
Gold has outperformed all other asset classes in the past ten years, gaining an annual average of 16.5% since 2001 (or 13.5% in euro terms). Although copper and oil recorded similarly positive performances, their volatility was considerably higher and the trends more erratic. Since our first recommendation in 2007 at USD 650, gold has outperformed every other asset class by a long way. And the 2010 development has been outstanding as well – the precious metal has increased by 10.5% (in USD) or 28.5% (in euro), respectively.
Amid the global crisis of confidence, investors seem to be re-discovering the fact that gold has been used as money for thousands of years. In periods where "black swans" are no singular occurrences but are practically coming in flocks, the status of gold as a safe haven has yet again proven its worth. Gold is the money that has won the favour of the free market over the past millennia. Gold has always been a seismograph for the health of the financial and monetary system, as well as inflation. Although the focus is currently on the Eurozone, the turbulences should not distract from the problems in the USA and Great Britain.
Gold is an excellent measure of the quality of paper money. It contains no liquidity risk, and it is globally accepted and traded around the clock. There is also no credit risk associated with gold, and gold cannot turn worthless. The urge to own gold is based on two basic human requirements: on the one hand, the need for safety, and on the other hand the longing for beauty. These two motives are a constant in history. The economy develops in cycles. In times of prosperity and growth, confidence surges, and so does the risk appetite. In such periods, the need for safety is relegated to the sidelines. This behaviour is currently undergoing a radical turn-around, and we believe that the remonetisation of gold has now finally begun.
"Gold and silver are money. Everything else is credit."
J.P. Morgan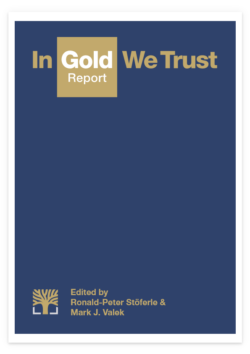 SUBSCRIBE TO THE In Gold We Trust report
To receive the annual In Gold We Trust report and Chartbook with related charts, subscribe to our In Gold We Trust Newsletter. Additionally feel free to subscribe to more interesting Newsletter like the Incrementum Research here.