The In Gold We Trust report 2021 will be published in
What the In Gold We Trust report is all about
Since 2007, the annual In Gold We Trust report has been regarded as the standard work for every interested gold investor. But the In Gold We Trust report is much more.
Each year we undertake a comprehensive macroeconomic analysis and examine the trends of the present, learn from the past with an eye on the future. To understand them, fundamental workings of the financial and economic system must be explored and critiqued. Every year, the In Gold We Trust report looks at the top issues in the financial world. In its method of analysis, it roughly follows the Austrian school of economics. It tries to give the reader a very holistic picture, which should allow him to understand not only the topic itself but the greater issues we face right now. In order to convey this knowledge, new topics are examined every year. But there are also classics, which get a safe place in the In Gold We Trust report every year.
We offer an Extended Version (long version) and a Compact Version (short version) for download. Here you can download the current version for free or subscribe to receive our latest research and content.
Videos related to the In Gold We Trust report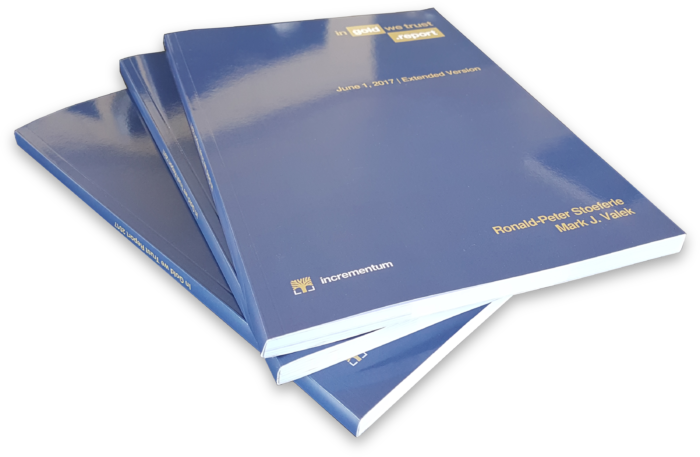 "The Goldstandard of Gold Analysis"
Since 2007, the annual In Gold We Trust report is THE authoritative report on gold investing, and is required reading for anyone interested in the precious metal market. As a team, Ronald-Peter Stöferle and Mark Valek analyze the state of the global financial markets, monetary dynamics and their influence on gold price developments like no other.

Detailed study on gold and gold-relevant capital market developments.

Critical consideration of all relevant events.

Recognized in more than 60 nations.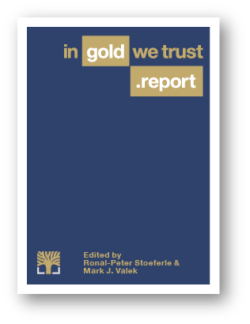 SUBSCRIBE TO THE In Gold We Trust report
To receive the annual In Gold We Trust report and Chartbook with related charts, subscribe to our In Gold We Trust Newsletter. Additionally feel free to subscribe to more interesting Newsletter like the Incrementum Research here.